Casablanca de Saha Maltese
And the future...?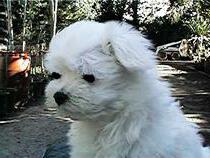 In a serious breeding program, as the one I follow, you always have to go further. I think carefully to choose the best males for my females, increasing chances to obtain at the end what I'm looking for.
This, which seems very simple at first sight, is actually very complicated, as a lot of variants influence to the final result. This means that what is planned and what really comes out does not necessarily have any similarities.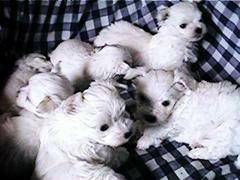 This is always something difficult to cope with, because our opportunities to do it right are very scarce. Any of my Maltese females usually starts to reproduce when they finish their run at the shows, and they only have two or three puppies in each of their three or four births. So they only have eight or nine puppies throughout their lives. And these are the puppies any Setter, German Shepherd or Boxer can have every time they give birth.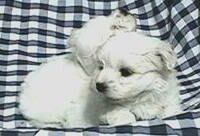 Everyone knows what a good Maltese should be like, and that is why I do not pretend to point out the breeding standard all breeders follow, which shows some general rules to fulfil. What really happens is that everything gets out of use, because while people are studying, discussing trying to correct, approving and publishing what they think, the dogs which have got the best rankings at the shows have already gone further: they are better that what is mentioned for standards. Besides, knowing that there is no perfect dog, the day we get across one which gets close enough to the idea we bear in mind, it will be considered as an example to follow and this means there is no end.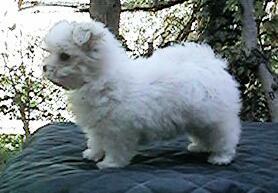 For me, in addition to all the qualities that make a dog be excellent in the rings and earn first prizes, what is fundamental is that it has a good character. All the time it spends at the hairdresser, training and in the ring is nothing compared with the hours it spends with its owners: all its life accompanying you.
That is why all my females give birth at home, with me sitting next to them, helping them and the puppies grow up at home too, with my family. This way they can develop their joyful character and that special sense they give to life, making it look like a game, which distinguish the Maltese breed. And, if one day they have to move out, their new owners will be their friends and everything will go on the same way. For them the life continues equal.
---
---