Casablanca de Saha Maltese
And now...
Our present time...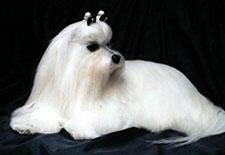 But hair is hair and when a dog has a beautiful figure, a good character, is intelligent, intuitive, loving, playful, athletic and has got long white hair, I have to say, without doubts, that this is my breed. That is why the Maltese breed has filled all my time since 1990, when my friends Manolo Gasquet and Antonio Moreno surprised me with their gift: a lovely Maltese puppy. She was as a teddy bear, tiny, white and coquettish and she was going to be my Ratona!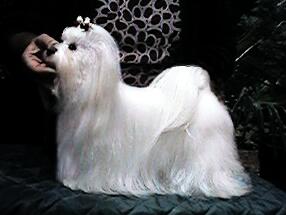 She, Casablanca de Shabanus, and a very handsome fiancee that came from USA, Martin's Mino Bee's Bingo Puff, are the founders of my actual breeding program. Some other important names have been added, such as Del Zarzoso (more than twenty five years of friendship), Ch & M, Bar None, Caramalta, Gosmore, etc.
Their two first daughters: Nana (Alba Saha's Datura) and Gordi (Strelitzia) have already demonstrated their genetic power, and together with our experience of thirty five years breeding "pure breeds", that each day have been better, they have formed a tandem for the success. Their descendants carry with pride their surname, Casablanca de Saha by the Shows, receiving lots of prizes.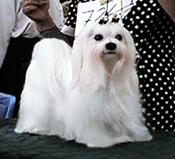 Whenever you see one of my Maltese dogs anywhere, enjoy yourself looking at it and, if you can take your eyes away from it, you'll find out that it's only an example of the role any of my dogs cold perform in any Show, and that any of my Show dogs cold be an excellent pet.
I would be delighted to share any of these jewels with you. If you think any of these dogs could share its life with you, now or in a future time, don't forget to get in touch with me.
---
---